Ways With Words
♦
Complex Topics in Simple Language!
♦
---
Readers' Letters
---
.

Readers' letters may be edited and/or rewritten for brevity, clarity and legality.
.
---
H
ow useful are novel-writing courses? My sister paid to do a course by correspondence but learnt very little after parting with a lot of money. — Lynda, Melbourne

■ Any writer can improve their skills, but tuition standards depend on the quality of tutors. Also, once a course has started, it may not be possible for dissatis­fied students to get their money back. A cheaper and more effective altern­ative may be to pay for a manuscript evaluation that includes feedback from an experienced editor. — Ed.

W

hat are your feelings on writer discussion groups as a way of picking up tips? — Scott Farmer, Dubai

■ Try a couple and see. Some people find them a mine of information while others say they're nothing more than an ego-stroking exercise for wannabe writers. — Ed.

H

ow much time should I spend on editing my work once the first draft is completed? — Brian West, Manchester

■ The secret of writing lies in the re-writing! In other words, polish is what makes it shine. Some authors will re-work a passage numerous times before moving on. Others leave the tinkering until after they have typed 'The End', then go back to the start. Whichever method you prefer, unless you're a genius, any­thing you write can be improved — particularly by cutting. Delete any word that isn't working to achieve an effect; ensure verbs are evocative wherever possible; use adjectives sparingly. — Ed.

C

an you suggest a way to overcome writer's block? — P Rossitter, Vancouver BC

■ Step out for a walk, take a bath, or engage in an automatic activ­ity which doesn't require your full attention — painting or gardening, for example. Sherlock Holmes played the violin for inspirat­ion. A solution will frequently surface during such activity. Also, read over your day's work before going to sleep. It's amazing how often you'll awake to see the light, so to speak. — Ed.

D

oes it very much matter how wide I set the margins in my typescript? I've seen a variety of different meas­ure­ments being recommended. — CSJ, Inverness

■ Absolutely. One size doesn't fit all, so you need to find out a particular publisher's style rules. Using the wrong margin width could even result in your work being rejected unread. Also important are the font face and font size, as well as the amount of indent at the start of a new paragraph — to name just a few metrics that publishers care about. The life of a writer would be so much simpler without such minutić . . . but ignore them at your peril. See Typescript Layout, in the links below. — Ed.

■ Email your queries to Ways With Words

For info about our Books & Publishing Services, please click a link in the list below

♦ Agent or Publisher?
♦ Making a Submission
♦ Choosing a Publisher
♦ Content Guidance
♦ Editing
♦ eBook Conversion
♦ Format Conversion
♦ Rewriting
♦ Plot Evaluation
♦ Proof-reading
♦ Self-publishing
♦ Translation
♦ Typescript Layout
♦ Your Unpublished Book Reviewed



To return to the home page, please use the navigation panel at left or click on the icon below.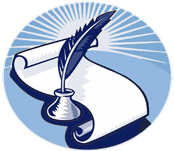 Back to top
Your book reviewed!
Click the button for more info. Click again to hide text.


Sample review
To see a sample of our book reviews, click the button below. Click again to close.


Request a Review
To order a review of your book, please click the link below.
Or call us on +353 (0)1 9081562